I haven't written anything for June. I couldn't get myself to do it. The only writing in June were some birthday wishes for two good long-time friends who turned fifty in the past month. It's always a blast to reflect on long-standing friendships. I spared no expense and, together with Marjolein, wrote and gave a speech, meaning that Marjolein did the actual speaking and I sat next to her, beaming.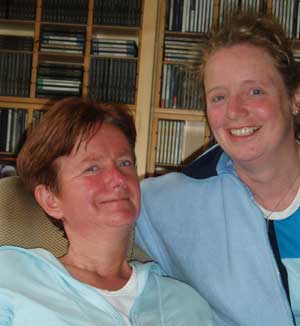 At both birthday parties I ran into some people I hadn't seen in years, which was fun and conjured up some happy memories.
June was a lot more pleasant than May, probably because we had more activities planned: a photo exhibition in Naarden, the new statues in The Hague, the flower fair in Noordwijk and watching Ward play tennis (he won three trophies!). Being active rejuvenates me. On top of that, I've taken up my old habit of taking a moment at the end of each day to remember one thing I liked and one thing that made me proud that day. It helps me with maintaining a positive outlook on life.
I survived the heat too, which was just a matter of staying indoors. We bought an AC unit for our bedroom. It's become a necessity, because I can't sleep in the heat. I spent a few nights downstairs in my chair as well. By now, the glass roof of our sunroom has been fitted with blinds, so we're fully prepared for the sweltering summer.
The kids both got good report cards and school has been out for a few weeks now. In a bit more than a week, we'll be heading for Scotland. We'll be taking a ferry from Rotterdam. The ship is equipped with a cinema and a swimming pool, so of course the kids are very excited. So are we, as a matter of fact.
The garden has turned out great, thanks to Lieke's green thumbs. At first glance, you wouldn't think it used to be bigger, which it was before we got a sunroom.
Tomorrow we'll celebrate Ward's birthday, after which we'll start preparations for our trip to Scotland. I'll make some to-do lists.
Have a good summer and happy trails!