Tumble
I hadn't taken a tumble in years, but this month I fell to the ground two times when trying to use the bathroom. It's due to a combination of being tired and badly positioned legs, because of which I sank to my knees. There's no way to stop it once it's started. Hein had to pick me up and I could do nothing to make it easier, I was dead weight. The second time I fell, I cracked my head on the floor. I saw spots for a second, but everything seemed fine. Only by the next day did we see what the damage was. While I was drinking, I felt like my jaw had been unhinged, the way my teeth gnashed together. And while I was eating my porridge, my remaining front tooth came loose. I now have three enamel stumps where my front teeth used to be
Hospital
Luckily, we had an appointment the next day as a last-ditch attempt to fix my teeth. I'm split. On the one hand, I hate the way my teeth look, especially when I'm around strangers. On the other hand, I'm dreading another operation and am doubtful that there will ever be a prosthetic strong enough to stay attached when I'm getting my teeth brushed. I'd written another letter for clarification, containing a cost-benefit analysis. "Oh, don't worry about cost," a jaw specialist told us. "Your insurance will cover it." Obviously someone who only thinks in sums of money. "It's not about the money," we replied, after which she wrote down the term 'quality of life'. We met with a surgeon. Seeing as I almost always have my mouth closed, esthetics alone were not enough to warrant the operation. I could have cried. The female doctor suggested I get back in touch with my dentist to see if he couldn't do anything about it. The week after, he got back to us: negative. I'll have to live with three broken front teeth.
Out of the house
I'm less and less tempted to get out. Maybe it's because it's winter. It's undoubtedly a factor. Always having to wear a coat or needing to be hauled into the van is a lot of work. And I'm getting sick of going on walks through the same park, especially since I can no longer drink coffee. After all, the tea parlour was always the focal point of our walks. It's still too cold to sit in the garden, which in itself isn't exactly 'leaving the house' either. Maybe it's because I'm too nervous in public or social settings. Do I give up too quickly? What can I even do in the outside world, unable to speak, my teeth only making it worse. I'm almost normal at home. But I know that sitting around at home isn't making me any happier. Because of that, I'm glad I attended parent-teacher conference and went to that birthday party.
Drinking
I can still drink, but I can't do more than a few gulps. Not only can I not keep my head upright because of my neck, but I can't create suction as well as I could before. I drink for a bit, but if it isn't going well, I'll give up. The rest of it'll just go in my feeding tube. I use it more and more, even in public. Bystanders don't know what to do. They look away, but are also intrigued by this less than common phenomenon. Only a few people are brave enough to ask me about it. "How does that feel?" I only feel it if the food is extraordinarily cold or hot, otherwise it barely registers. I don't mind using my PEG in public, provided that it's done decently. I hope it doesn't bother all of you, either.
Photo
Lia, Hein's mother, turned 80. There were so many photographers present. This picture was taken by Adriaan. Of course, Floor is the looker in this one. Her kind smile, youthful skin and beautiful eyebrows are a huge contrast to mine. But the biggest difference is how carefree she looks, whereas I look almost frightened. I specifically asked for a picture of the two of us, but apparently when it came to it, I was too apprehensive about the result. And, the most important thing for me was keeping my mouth shut.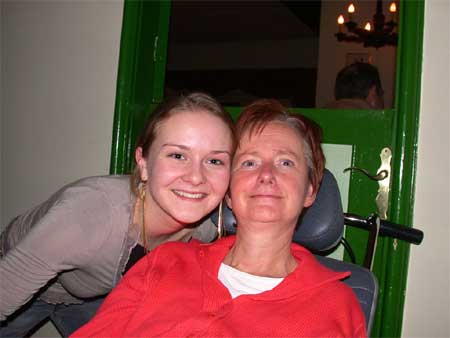 Organising
It's only now that I realise how much the construction of our sun room impacted me. I could write about nothing else, got writer's block and lost the drive to organise other things. By now, I'm over it and back to organising. This week I got three confirmations of things I'd planned. One of them was for our holiday in Scotland. They have some room for us after all!
Afterwards, we'll be going on holiday to South Limburg. To our surprise, there were still vacancies. We'll be going with family instead of friends this time.
The third confirmation pertained to my birthday party on April 2nd in the botanical garden, a beautiful location. Here's a link if you feel like visiting it too.
I've had a great week.
Grocery shopping
I haven't been inside a supermarket for over 6 months now. The weather was so bad on Saturday that, instead going on my normal walk through the park with my sister-in-law Netty, we went to the Albert Heijn. I vowed to get all of the things Hein tends to forget: tiramisu, croissants, a quiche, stroopwafels, etc. I longed for all of the things on the shelves that I can no longer eat. It's a good thing I don't go grocery shopping anymore. Back home, I always make shopping lists and usually decide what's for dinner. But I usually focus on functional groceries only. We only get sweets and treats when the kids remember put them on the list.
Euromast
I'd been planning a visit to the Euromast for some time [The Euromast is the highest building in the Netherlands. -Ed.]. The last time we planned on visiting it, the weather was too good to spend the day inside, so we went to the forest in Amsterdam instead, but this time the weather is so bad that the Euromast seems ideal. The top floor was roped off because of high wind and the barriers obstructed my view, but the restaurant with floor-to-ceiling windows had a great panoramic view. We'd love to go back there when it's dark outside.
Head cold
I hoped to avoid getting sick this winter. Winter was almost over and nobody had gotten sick yet. But then, one by one, my carer, Floor and my other carer got a cold. And now I have it too. The evening news called it an epidemic. I've had a sore throat and a runny nose for the past few days and I've barely written anything because of it. I've started taking doxycycline again. We always have some in the house to prevent pneumonia. Luckily, one of my carers was able to fill in for the other as she recovered at home. I can't wait for spring to start.
ALS patient union
ALS patients don't write history. I'm convinced that, if ALS patients had longer lifespans, the disease would get more recognition. Patients are the driving force behind initiatives that spread awareness. Vincent Straatman was the impetus behind the Valscherm Foundation. That lead to the establishment of the ALS Centre. But after that, interest in ALS waned and the information was neatly divided between the UMCU and the AMC. I haven't heard from the ALS Centre in a while, besides a Christmas card. Vincent was looking for a way to get ALS into the public consciousness with him as the figurehead, and now Ardi Bouter is trying to do the same, without knowing about his predecessor. How would he? We don't leave much of an impact. And what about the VSN? ALS is the most represented illness within the VSN. That may just be because MS has its own union, with Maartje van Weegen as its figurehead. But the VSN doesn't actually have any patient involvement and is more medical than social. I'm afraid it'll remain that way. ALS doesn't, and will never have, widespread public awareness.*
Portraits
There's an empty white wall in our sunroom. What better way to dress it up than a painting or two? We've wanted to get portraits of the kids for years. After a series of events, we found ourselves in an art studio in Haarlem one Saturday. Myriad portraits were shown to us; realistic, impressionist, with or without a backdrop, old and young people. By now, I can no longer see the wood for the trees. I don't care too much about the style, as long as the portraits look good.
Holiday
Ward is so glad he doesn't have school. "I don't have to do anything right now," he'll often say as he's lazing around. He celebrated the first day of the holidays by keeping his pajamas on all day. It's snowing outside. I'll be working on my scrapbook with Lieke later.
*if you're actually interested, check out Stichting ALS